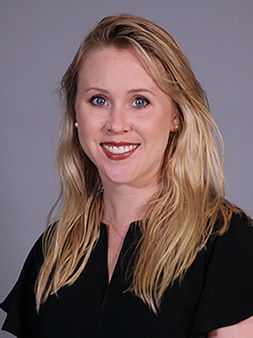 Kelli George
PhD in Human Sciences
McNair Scholars Fellowship
Hometown: Richmond, VA, USA  
Spring 2016-Fall 2019
Currently Resides In: Morgantown, WV, USA
Current Job/Occupation
I am a licensed Registered Dietitian Nutritionist (RDN) and currently serve as a Teaching Assistant Professor and Director of the Didactic Program in Dietetics at West Virginia University. At WVU, in additional to advising many students on their nutrition-related career paths, I currently teach the following courses: Introduction to Nutrition, Professional Development in Dietetics, and Medical Nutrition Therapy II.
Educational/Professional Background
I earned my bachelor's degree at Virginia Tech, I completed my dietetic internship at VCU Health, and I earned my doctorate at Florida State University.
Experience as A Member of The Fellows Society
The Fellows society was a great way to meet other graduate students outside of my field of study. It also awarded me many opportunities, like meeting the President at house, and attending state Graduate Student Conferences, that I would not have had otherwise.
Unique Awards/Achievements
I have been awarded two faculty development awards that have allowed me to travel to conferences and training opportunities in nutrition education.
Future Plans/Aspirations
To continue to teach and advise students in higher education, and grow the dietetics program at my current institution.
Advice to Share with Current Fellows
Take advantage of the many opportunities that are offered to you!
title-inside title-centered
2