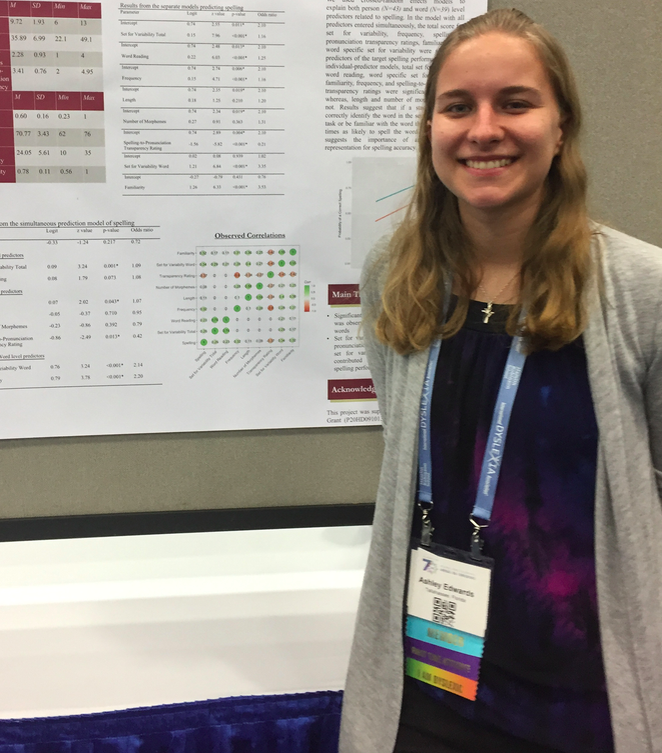 Ashley Edwards
Hometown: Marilla
Fall 2017 – present
PhD in Developmental Psychology
Legacy Fellowship
Educational/Professional Background
BA in psychology earned at the State University of New York at Geneseo.
Research and Teaching Interests, or Professional Field
My research interests include dyslexia and reading development, with specific interests in reading fluency.
My teaching interests are in research design and statistics.
Experience as A Graduate Student at FSU
At FSU I have had the amazing experience to work with a number of amazing faculty members who are experts in the field of reading research. Working with Dr. Schatschneider has helped me to gain experience in many aspects of methodology, learning many statistical techniques that I was unfamiliar with before graduate school. Working with Dr. Steacy and Dr. Compton has increased my content area knowledge in the field of reading research as well as solidified my belief in the importance of interdisciplinary and collaborative work.
Experience as A Member of The Fellows Society
Being a part of the Fellows Society has allowed me to interact with graduate students from other departments that I would not have ordinarily had the opportunity to. Getting to hear about research that is being conducted around campus is very interesting.
Future Plans/Aspirations
I plan to become a professor with methodological expertise at a university with a research lab studying dyslexia and reading development.
title-inside title-centered
2