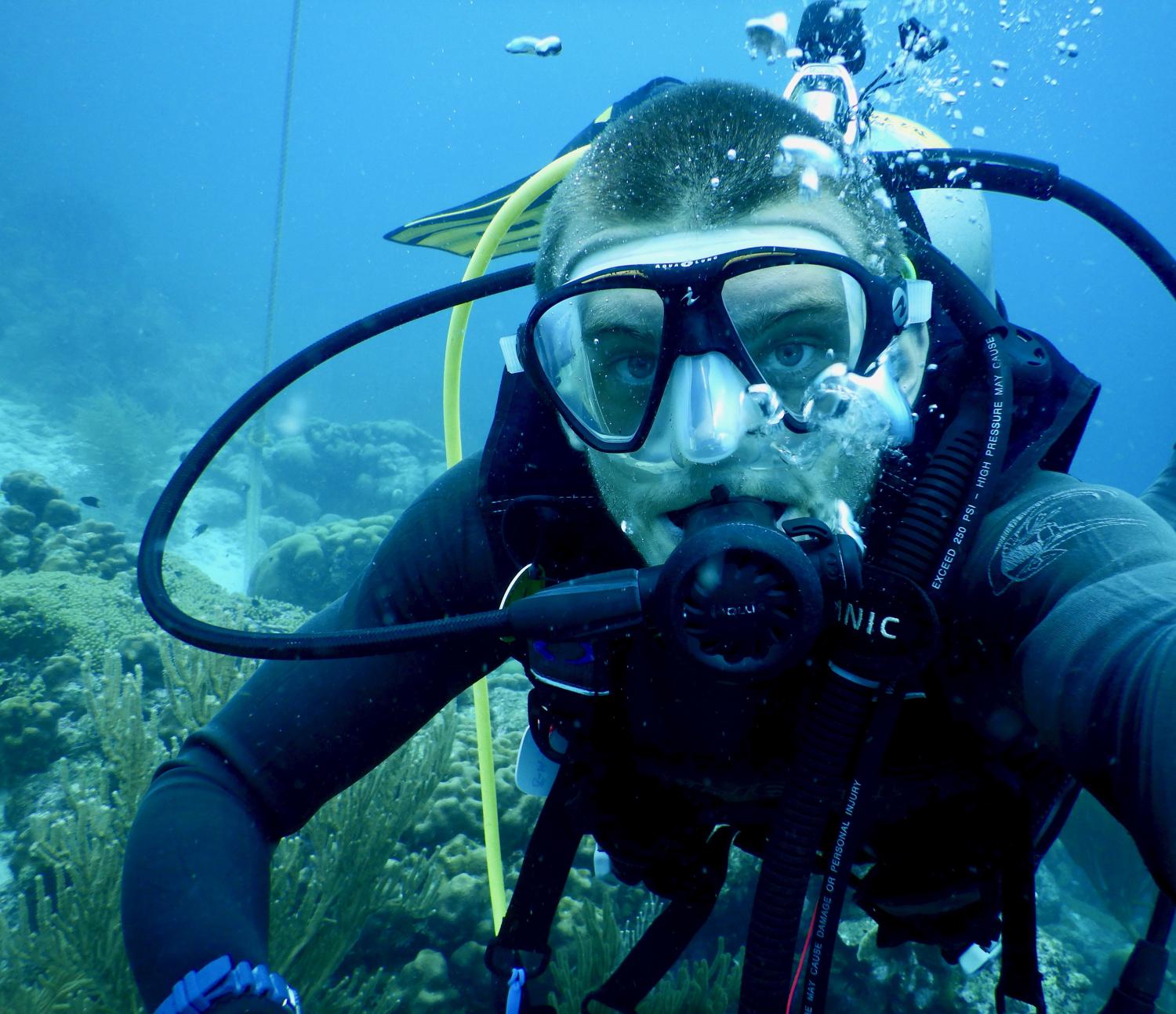 Ethan Cissell
Hometown: Gurley, Alabama, USA
Fall 2017 – present
Ph.D. in Biological Science
National Science Foundation Graduate Research Fellowship
Lab Website: http://www.marecology.com/people
Educational/Professional Background
I attended The University of Alabama for my undergraduate degree in microbiology. While at The University of Alabama, I participated in undergraduate research that sought to better understand how competitive interactions, facilitated via the release of bactericidal secondary metabolites, changed across bacterial ontogeny in soil-dwelling bacteria. This early exposure to research in environmental microbiology motivated me to pursue graduate education in ecology with a specific focus on microbial ecology.
Research and Teaching Interests, or Professional Field
My research interests broadly encompass predator-prey interactions, and how such interactions are altered by both local and global change. My dissertation research is focused on predatory interactions with benthic cyanobacterial mats on coral reefs. Benthic cyanobacterial mats have recently proliferated on coral reefs worldwide, and pose numerous threats to coral health. My research seeks to better understand how biotic interactions influence the persistence and distribution of reef benthic cyanobacterial mats. I am particularly interested in how the interaction between multiple predator effects and changing environmental conditions mediates benthic cyanobacterial mat persistence. My field-based research on this topic involves extensive diving on the coral reefs around the island of Bonaire, Dutch Caribbean, as well as patch reefs offshore the Florida State University Coastal and Marine Lab. I also utilize next-generation molecular approaches to complement my field observation and experimentation, allowing me to thoroughly document the natural history of this system, and interrogate micro-scale interactions.
Experience as A Graduate Student at FSU
A formative moment in my professional development was completing the Scientific Diving course at FSU taught by Chris Peters, the FSU Coastal and Marine Lab dive safety officer. In this class I learned numerous techniques for effectively and efficiently pursuing underwater research that led to a productive first field season diving in Bonaire during the summer of 2018. It was during this field season that I had the opportunity to observe interesting patterns in benthic cyanobacterial mat blooms, leading me to ask the research questions I am now pursuing for my dissertation.
Experience as A Member of The Fellows Society
Being a member of the Fellows Society has connected me with an outstanding group of students that have collectively brought me a greater exposure to the interesting research going on at FSU across many departments. This membership has also broadened my view of my own research, and its socio-political implications. The Fellows Society brings together graduate students from a diverse array of backgrounds that I normally would not have the opportunity to interact with. These interactions offer unique insights into various aspects of my research that I would not otherwise consider, and give me an opportunity to practice discussing the importance of my work to people outside of my own field.
Future Plans/Aspirations
I am pursuing a career in academia. Not only will I be able to continue developing/pursuing my research program through this career, but I will also have the opportunity to mentor future generations of scientists through graduate student mentorship and undergraduate education.
title-inside title-centered
2