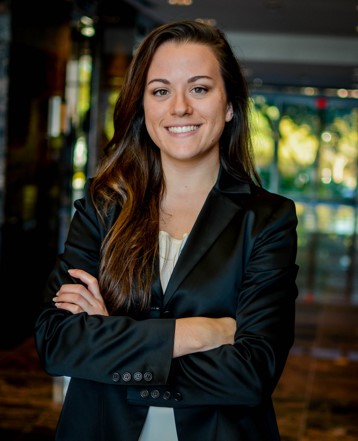 ​
Marielena Dias
Hometown: St. Augustine, FL    
Fall 2016 - present
PhD in Political Science
Legacy Fellowship
Leadership Position in The Fellows Society
I am incredibly honored and excited to hold this position in the 2020-2021 year. Last year, our Fellows Society Board underwent a few key changes and already our board participation and output went up ten-fold. This is a crucial time for the Fellows Society Board and one I plan to capitalize on. We identified what events and service opportunities that Fellows are interested in, and this year I plan to provide newer opportunities that align with these interests and preferences. I also aim to provide Fellows the chance to interact with students from the CARE program who may desire to have informal mentors answer their questions about graduate school.
Educational/Professional Background
Master of Science in Political Science, Dec 2017
Bachelor of Arts in Political Science, Dec 2013
Marielena Dias is a fifth-year PhD Candidate in the Department of Political Science at Florida State University. Her research focuses on comparative politics, her dissertation considers the factors that explain support for European integration, and she teaches classes on comparative politics, political methodology and research design. At FSU, she is a recipient of the Legacy Fellowship and a member of the Fellows Society—an organization of graduate students who hold competitive university-wide fellowships to advance interdisciplinary engagement, leadership, and service to the community. She is also a founding member of the Women's Grad Student Network, which provides social and academic support for female-identifying graduate students. She is a first-generation college graduate, and the first of her family to pursue a graduate degree.
Research and Teaching Interests, or Professional Field
Comparative Political Science

Political Methodology and Research Design

Factors that explain support for European integration
Experience as A Graduate Student at FSU
Florida State has been so accommodating and welcoming. The culture in my department is very collegial. I have had the opportunity to help co-create a network of women graduate students in my college, and pursue many opportunities for academic and professional growth through my department.
Experience as A Member of The Fellows Society
The Fellows Society has added a positive social element to my time at FSU. Attending the President's Social every fall makes me feel appreciated and seen out of the many graduate students on campus. Also, meeting students with similar backgrounds as mine--especially culturally--has given me a community of individuals to share the graduate school experience with.
Future Plans/Aspirations
Ultimately, I plan on teaching and conducting research at a university.
title-inside title-centered
2